New El Corazon Eye shadows Matte!
New El Corazon Eye shadows Matte!
05.07.2019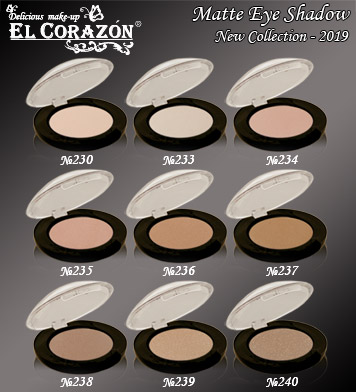 New nude shades of compact eye shadow from El Corazon No. 230,233,234,235,236,237,238,239,240!
Nude means the whole palette, which includes any variations of skin tones of a Caucasian person. Therefore, its name comes from the word "nu" - from the French "nudité", meaning "nudity", "nakedness". For the "nudité" make-up, beige warm colors and light shades of brown are used - cream, powdery, almond, sandy, etc. Any this tone emphasizes natural beauty, merging with the skin and remaining imperceptible. The perfect "nudité" make-up should mask imperfections, giving the face, and in particular eyes, a more fresh and well-groomed look. Matte nude gamma shadows can be applied to the eyelids, used for the visual correction of eyebrows, as well as the modern formula of El Corazon shadows provides for dry and wet application. Thus, several colors can be obtained from one color at once, depending on the method of application.
Makeup in the style of nude is a time-tested classic, and today is also a fashion trend!